The Rifles British Military Army Bugle Lest We Forget Remembrance Poppy Badge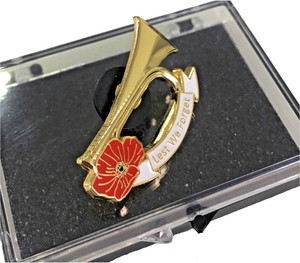 ---
THE BUGLE LEST WE FORGET BADGESize: 30mm x 22mmRubber Butterfly fitting on backFitted on foam and boxedManufactured in the UK BirminghamGold plated
The bugle is used mainly in the military and Boy Scouts, where the bugle call is used to indicate the daily routines of camp. Historically the bugle was used in the cavalry to relay instructions from officers to soldiers during battle. They were used to assemble the leaders and to give marching orders to the camps.
The bugle is also used in Boy Scout troops and in the Boys' Brigade.
The Rifles, an infantry regiment in the British Army, has retained the bugle for ceremonial and symbolic purposes.
The bugle has also been used as a sign of peace in the case of a surrender.
Fitted with a red enameled poppy, this bugle badge is perfect for a gift or for the buyer to wear on remembrance day.