Personalised Laser Engraved Metal Ballpoint Pen 22 colours PROMOTIONAL or GIFT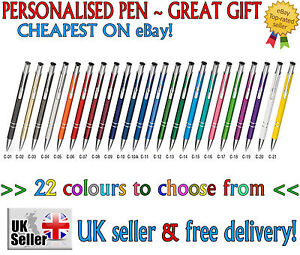 ---
CHEAPEST PERSONALISED PEN on !TOP QUALITY METAL PENS WITH YOUR DESIGN!

FREE DELIVERY✔

FREE GRAPHIC DESIGN✔

FREE ELEGANT BLACK VELVET POUCH✔

Very popular automatic metal ball pen with a metalized surface and decorated with 2 rings.

Pens comes with blue or black lead/refill.

We can engrave on pen's body your text, name, logo, symbol, company details, website address etc. 

Engraving are is approx 6mm x 70mm

Our products are engraved using the best technology - YAG LASER.

HOW TO ORDER?

Please remember if you have any problem with PayPal payment dont worry we accept all major debit and credit cards payments as well. Please choose at checkout 'Other' payment option instead of PayPal. We will send you via messages & email invoice and you can pay very fast using any credit or debit card. Thank you 

1. Please select: Main Colour, Ink colour and please put how many pens you need in quantity box, later please click 'Buy it now' 

 If you need few colours use option "add to basket" and continue shopping and please choose another colour.

2. Please add message with PayPal payment at checkout (add note)  or alternative you can send message via email personalisedgadgets@gmail.com (in title please put your ID) with following details:

Text, logo or project to be placed on the pens. Please choose font style as well. If you not choose we will use most popular.

DELIVERY

Free delivery is 2nd class. If you need it faster please choose 1st class at checkout (0.85p). Dispatch time is 1 working day.

RETURNS POLICY

Your satisfaction is our top priority. We guarantee the quality of our products and we want you to be completely satisfied with your purchases. If for any reason you are not completely satisfied with your purchase, please let us know as soon as possible. Personalised products are all made to order and cannot be returned unless there is a broken pen,or WE have engraved wrongly to your engraving instructions. If you have received your order and there is a problem please contact us straight away.