Industrial Vintage Row of 4 Antique Cinema Theatre Seats Chairs Waiting Room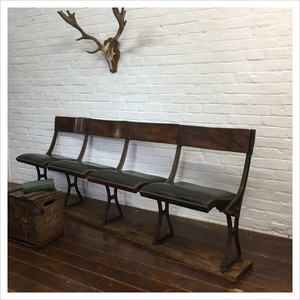 ---
  Industrial Vintage Row of 4 Vintage Theatre Seats
Industrial Vintage Row of 4 Vintage Theatre Seats
A row of 4 1950s Vintage theatre seats. The frames of these seats are cast iron with leatherette riveted seats and hardwood backrest. All seats flip up as per the original use.
The seats have been mounted on a plank to ensure rigidity, they could be left on this or screwed directly onto the floor.
Great as waiting area seats or as alternative seating in a room.
Height: 79.5cm (seat height 46cm)
Width: 204cm (base width 218cm)
Depth: 45cm
This product is an original vintage item so there are signs of wear from use. Postage is for England only please contact us for other destinations.