Argos Home Alena Circular Solid Wood Table & 4 Chairs - Oak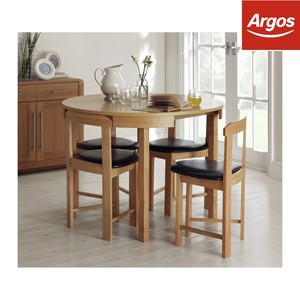 ---
Argos on - Argos Home Alena Circular Solid Wood Table & 4 Chairs - OakARG4284592sku_4284592type_FLEETcondition_1000service_UK_OtherCourier24 #wk52FurnitureClassic meets contemporary with the Argos Home Alena dining table. Made from solid wood with a traditional oak stain finish, the Alena has a vintage appeal with a modern edge. Its clever circular design with slot-in chairs is perfect for small spaces, and its easy-clean black leather upholstery offers a dark contrast to the warm wood. Part of the Alena collection. Table:Size H75, . Diameter 105cm. Solid wood table. Self-assembly. Chairs:4 chairs. Size of each chair H74, W42, D37cm. Solid wood frame. Solid wood legs. Leather effect seat pads and back rest. Upholstered finish. Self-assembly. General features:Total weight 22kg. Argos Home Alena Circular Solid Wood Table & 4 Chairs - Oak
For Best Local Lead Time Use Postcode Check in Listing
Classic meets contemporary with the Argos Home Alena dining table. Made from solid wood with a traditional oak stain finish, the Alena has a vintage appeal with a modern edge. Its clever circular design with slot-in chairs is perfect for small spaces, and its easy-clean black leather upholstery offers a dark contrast to the warm wood.

Part of the Alena collection.

Table:

Size H75, . Diameter 105cm. Solid wood table. Self-assembly.

Chairs:

4 chairs. Size of each chair H74, W42, D37cm. Solid wood frame. Solid wood legs. Leather effect seat pads and back rest. Upholstered finish. Self-assembly.

General features:

Total weight 22kg. Catalogue Number 428/4592
Delivery Lead Time Postcode Check
Estimated delivery dates quoted on show our standard national availability. We can often deliver much faster in specific regions.

Please check your postcode
Item Condition
New with 12 Month Guarantee
Item Condition
Refurbished Item with 12 Month GuaranteeRefurbished Item with 6 Month Guarantee

This item is a professionally refurbished, A-Grade, Argos Manager Special - our top grade of refurbished item!

This product may have minor cosmetic marks or scratches. These will not hinder the functionality.

This is a B Grade refurbished product and may have obvious marks or scratches.

Argos B Grade is our second grade of refurbished product. These items are professionally refurbished, but might have more obvious marks or scratches. This does not affect the functionality and is purely cosmetic.

They have all been comprehensively tested, presented in full working order and the item will have been professionally refurbished

Importantly, there may be obvious cosmetic marks. These could include moderate to heavy scratches, scuffs, marks or dents. None of these will affect the functionality of the product.

Factory settings will be restored (if applicable) and will be in original retail or replacement packaging that may have marks, scuffs or stickers on the boxes

The item might have non-original accessories.

This grade of product may have been subject to a previous sale, be ex-display and/or non-pristine. All B grade products are supported by a 6 month warranty.

View Video - A guide to Refurbished ProductsRefurbishment GuideCloseYour browser does not support the video tag.
Item Condition
Refurbished Item with 12 Month Guarantee

This item is supplier refurbished, it has been refurbished and supplied direct to us by the manufacturer.

This product may have minor cosmetic marks or scratches. These will not hinder the functionality.
Item Condition
Returned Habitat Item

This item has been returned by a customer, it has been fully checked over and any minor damage is shown in the images.
Item Condition
Clearance Item with 12 Month Guarantee

These products are complete with all standard manufacturers parts and accessories, in original packaging, and all supported by the Argos 12 month warranty.

Please note that in some instances our clearance stock, although new, may have been subject to previous distribution within our network. A small percentage of packaging may show some signs of transit with the occasional box having been opened.

Our 12 month Argos warranty means that you can purchase with full peace of mind.
Product Information
Questions & AnswersCustomer Reviews
Product Documentation
Document 1Document 2
Returns
Peace of mind with 30 day returns
UK Delivery
Delivered by ArgosDelivered direct by our SupplierDelivered by PantherDelivered by Royal Mail or ParcelForceWe are unable to deliver this product
Click & Collect
Free instant pick-up today from an Argos store
Combined Shipping
Combined postage on same postage serviceThis product is not eligible for combined postage
International Delivery
Delivered by Global Shipping Programme
Republic of Ireland Delivery
Delivered by Fastway
Combined Shipping
Combined postage on same postage serviceThis product is not eligible for combined postageShop our latest dealsSearchHelpWOW DEALSCLEARANCECLICK & COLLECTREFURBISHEDShow CategoriesHide CategoriesTechnologySound & VisionTelevisionsSmart AssistantsInternet TV & Media StreamersTV Reception & Set-Top BoxesDVD, Blu-ray & Home CinemaTV & Home Audio AccessoriesHeadphonesPortable RadiosHome Audio & HiFi SeparatesiPod & MP3 PlayersiPod & MP3 Player AccsVirtual RealityComputing & TabletsLaptops & NetbooksiPads/Tablets/eBook ReadersiPad/Tablet/eBook AccessoriesDesktops & All-in-OnesLaptop & Desktop AccessoriesDrives, Storage & Blank MediaPrintersPrinter Ink, Toner & PaperMonitors & ProjectorsHome NetworkingCables & ConnectorsKeyboards, Mice & PointingSoftwarePhones & Wearable TechMobile & Smart PhonesMobile Phone AccessoriesHome Phones & AccessoriesWalkie TalkiesActivity TrackersSmart WatchesGPS & Running WatchesCameras & PhotographyDigital CamerasMemory CardsCamera & Photo AccessoriesCamcordersCamera DronesFilm PhotographyTripods & SupportsLenses & FiltersTelescopes & BinocularsVideo Games & ConsolesConsolesGamesAccessoriesVirtual RealityHome & GardenAppliancesWashing MachinesWasher-DryersTumble DryersFridges & FreezersDishwashersCookers, Ovens & HobsPickup Today AppliancesMicrowavesKettlesSmall Kitchen AppliancesCoffee & Espresso MakingVacuum CleanersCarpet CleanersSteam CleanersIronsHeating, Cooling & AirFurniture & StorageBeds with MattressesBed Frames & Divan BasesMattressesInflatable Mattresses & AirbedsBedroom Furniture SetsBedside Tables & CabinetsChests of DrawersWardrobesChildren's FurnitureSofasArmchairsSuitesOttomans & FootstoolsTable & Chair SetsChairsTablesCabinets & CupboardsBookcases, Shelving & StorageTV & Entertainment StandsStorage SolutionsHome Office FurnitureHomewares & AccessoriesBeddingDuvetsPillowsChilren's Home & FurnitureBathroomElectric ShowersToilet SeatsHome DecorCurtains & BlindsLightingClocksRugs & MatsCookware, Dining & BarHousehold & Laundry SuppliesHome Office EquipmentPet SuppliesChristmas Trees & DecorationsGarden & PatioBarbecuing & Outdoor HeatingLawnmowersGarden Power ToolsGarden Hand ToolsGarden ShedsGazebosGarden Structures & ShadeGarden & Patio FurnitureGarden FencingGarden LightingGarden OrnamentsBaskets & Windows BoxesPressure WashersWatering EquipmentSwimming Pools & Hot TubsDIYPower ToolsHand ToolsLaddersTool Boxes & StorageDoors & Door AccessoriesLaser Measuring ToolsTorchesHome SecurityElectrical AccessoriesKitchen Plumbing & FittingsDIY MaterialsPainting SuppliesWallpaperBaby & NurserySafetyCar SeatsCar Seat AccessoriesSafety Gates & Stair GatesBabyproofingMonitorsBed GuardsSafety Harnesses & ReinsSwimming AidsThermometersPushchairs & PramsPushchairs & PramsCosytoes & FootmuffsParasols, Covers & CanopiesCarrycotsBaby FeedingHigh ChairsBooster SeatsBottlesBottle Sterilising & CleaningBottle Warmers & CoolersBreast PumpsFeeding SetsBibs & MuslinsFeeding Pillows & SupportsFood GrindersNursery FurnitureCotbedsCots & CribsCot & Crib MattressesMoses BasketsPlay PensMobilesBaby & Nursery GeneralToys & ActivitiesWalkersBaby Changing & NappiesBaby Carriers & BackpacksMaternity & PregnancyClothes, Shoes & AccessoriesNursery BeddingBaby Bathing & GroomingChristening & GiftsToysToys GeneralLEGO®Action FiguresTV & Film Character ToysDolls & BearsSoft Toys & Stuffed AnimalsConstruction Toys & KitsCreative Toys & ActivitiesRadio-ControlledScalextric & Slot CarDronesDiecast & VehiclesElectronic PetsRocking HorsesGamesBoard & Traditional GamesAir HockeyElectronic GamesJigsaws & PuzzlesOutdoor Toys & ActivitiesGarden Games & ActivitiesTrampolinesClimbing FramesSwingsSlidesBouncy Castles & InflatablesScootersRide-on CarsTricycles & TrikesSkatesInline & Roller SkatingSkateboardingPogo SticksSwingballPlayhousesTentsPaddling PoolsSand Pits & ToysWater PistolsPre-School ToysChiccoEarly Learning Centre (ELC)Fisher Price/ Little PeopleLittle TikesOther Pre-SchoolPlaymobilPlayskoolSmobyTomyWooden ToysEducational ToysVTechLeapFrog & LeapsterMusic & ArtScience & NatureSports & LeisureSports, Health & FitnessBikesBikes AccessoriesHelmets & Protectice GearActivity TrackersFitness TechMulti-GymsExercise BikesCross TrainersTreadmillsRowing MachinesStrength Training & WeightsEquipment & AccessoriesSports SupplementsSwimmingFootballBadmintonBasketballBoxingTennisCamping & HikingTents & CanopiesSleeping BagsHiking Rucksacks & BagsCamping Cooking SuppliesCamping Tables & ChairsLights, Lanterns & TorchesWater Bottles & HydrationLuggageSuitcasesBackpacks & RucksacksHoldalls & Duffle BagsTravel Bags & Hand LuggageTrolleysTravel AccessoriesLeisure & HobbiesMusical InstrumentsArts & CraftsSewing MachinesMartial ArtsDartsFishingGolfSnooker & PoolTable TennisInline & Roller SkatingScootersSkateboardingPet SuppliesCarSat NavsDash CamsPortable DVD PlayersCar Stereos & Head UnitsSpeakersCarpets & Floor MatsCar AccessoriesGarage Equipment & ToolsHealth & BeautyHair Care & RemovalHair DryersStraighteners & Curling TongsBrushes & CombsRollers & CurlersClippers & TrimmersElectric ShaversEpilators & ElectrolysisLaser Hair Removal & IPLShaving & Grooming KitsMake-Up & FragrancesMen's FragrancesWomen's FragrancesEye Make-UpFace Make-UpLip Make-UpMake-Up Cases & BagsMake-Up Sets & KitsMake-Up Tools & AccessoriesBody, Nail & SkincareManicure/Pedicure Tools & KitsNail Art SuppliesNail PolishSpas, Baths & SuppliesBath & BodyFacial Skin CareDiet & Weight LossHealth CareMassageDental CareElectric ToothbrushesElectric Toothbrush HeadsMobility & MedicalMobility & Walking EquipmentMobility Furniture & FixturesMonitoring & TestingOrthopaedics & SupportsClothingBoy's Clothing & AccsCoats, Jackets & SnowsuitsHoodiesNightwearT-Shirts, Tops & ShirtsBoys' ShoesBoys' AccessoriesGirl's Clothing & AccsCoats, Jackets & SnowsuitsHoodiesNightwearOutfits & SetsGirls' ShoesGirls' AccessoriesWomen's ClothingCoats & JacketsDressesLingerie & NightwearWomen's HandbagsWomen's AccessoriesFancy Dress & CostumeBaby & Toddler Fancy DressBoys' Fancy DressGirls' Fancy DressMen's Fancy DressWomen's Fancy DressUnisex Fancy DressAccessoriesMen's ClothingCoats & JacketsNightwearT-ShirtsMen's AccessoriesJewellery & WatchesCostume JewelleryAnkletsBraceletsCharms & Charm BraceletsEarringsNecklaces & PendantsRingsSetsBody JewelleryFine JewelleryFine BraceletsFine Charms & BraceletsFine EarringsFine Necklaces & PendantsFine RingsMen's JewelleryBraceletsChains, Necklaces & PendantsCufflinksEarrings, StudsRingsJewellery Boxes & SuppliesCleaners & PolishJewellery BoxesWatchesWristwatchesSmart WatchesRunning WatchesFob & Nurse WatchesPocket WatchesGiftsBoys GiftsAction FiguresBoard & Traditional GamesConstruction Toys & KitsCreative Toys & ActivitiesDiecast & VehiclesBoy's AccessoriesBoy's Fancy DressInline SkatesRide-on CarsScootersTV & Film Character ToysGirls GiftsAction FiguresBoard & Traditional GamesConstruction Toys & KitsCreative Toys & ActivitiesDolls & BearsGirl's AccessoriesGirl's Fancy DressInline SkatesRide-on CarsScootersTV & Film Character ToysLadie's GiftsBath & BodyFragrancesHair Care & StylingHandbagsShaversClothingFancy DressMen's GiftsDronesFragrancesJewelleryShaversAccessoriesClothingFancy DressOther GiftingExperience DaysDecorative Ornaments & PlatesParty SuppliesWrapping Paper
You might also like...
Argos Home Elmdon Oak Effect Dining Table & 4 Chairs - BlackArgos Home Quattro Round Table & 4 Chairs - WhiteArgos Home Milan Space Saver Table & 4 Chairs - BlackArgos Home Lido Extendable Glass Table & 4 Chairs - Black