Historical violin, Violin, in original case, age condition, body of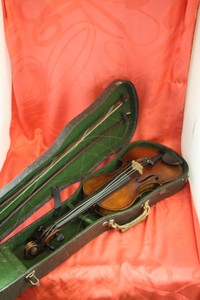 ---
Historische Geige, Violine, im original Koffer, altersgemäßer Zustand, Korpus an

Verkaufen hier eine Historische Geige, Violine, im original Koffer, altersgemäßer Zustand, Korpus an einer Stelle gerissen, Schnecke einseitig beschädigt, sonst leichte Alterspuren, dazu 2 Geigenbögen, Länge 59 cm Griffstück 11,5 cm Breite 21 cm.

For our chinese customers, caused by serios trouble with chinese custom during the last time, we are not longer able to send parcels on economy way. Please if bidding on our item take care that we have to send a Premium Parcel to China, which will cost 26,00 €, with an extra amount per Kilogramm of 6,00 €. So if you are interested in our items, please ask for your personal shipping fee, during the auction. Any auction winner will accept this terms by bidding. If there are any questions do not hesitate to ask. 

Shipping to Russia and USA is €28,90 per parcel  with an extra amount per kilogramm of  €1,50. 

Shipping to Japan, Taiwan, Australien, Brasilia is €32,90 plus an extra amount of  €3,00 per kilogramm)

 

Bitte beachten sie das der Preis für den nationalen und internationalen Versand nur als Orientierung gilt, wir suchen in jedem Fall den für den Kunden und dem Artikel entsprechenden günstigsten Versand. Sollten Sie mehrere Artikel bei uns ersteigern, werden natürlich auch nur ein Mal  kombinierte  Versandkosten fällig.

Für weitere Informationen kontaktieren Sie uns gerne via . Wir versuchen Ihre Fragen so gut und schnellstmöglich zu beantworten.

  

Wir erstellen die Artikelbeschreibung auf Basis unserer Erfahrung und der Recherche unseres Teams, sollten Sie doch einmal Zweifel an unserer Beschreibung haben wenden Sie sich an uns.

  

Ihr Art2sell Team.

     
 _gsrx_vers_837 (GS 7.0.15 (837))