High Quality Bahtinov Mask Focusing Mask for Telescopes, Chose from 8 Sizes, NEW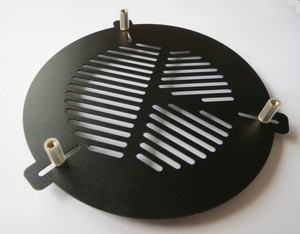 ---
The Bahtinov mask has become the preferred method of focusing a telescope, either visually or when imaging with a CCD camera, DSLR or webcam.  They are an inexpensive tool which will allow you to achieve pin-sharp levels of focus, saving you time and improving your work. Simply place the mask over the front of your 'scope, align the scope towards a star. The mask displays a unique diffraction profile; one part of the diffraction pattern moves in response to changes in focus and displays error as a displacement from a clearly defined point.

Whether you're doing planetary visual observing, planetary imaging, or deep sky imaging, the Bahtinov Mask is a great accessory to get the best focus for your telescope quickly and easily.

These high quality Bahtinov masks are adjustable to fit a wide range of optical tubes, unlike masks which are only able to fit one telescope. They have adjustment latitude of about 30-60mm, depending on model, in aperture making them very versatile.

They are made from precision laser cut enforced plexiglass, which is stiff and long lasting. They will never be brittle in the cold, unlike some other masks which are made from normal plastics.

The masks grip the telescope tube gently but firmly with three metal posts which have non-scratching silicon sleeves to protect you valued telescope surface. This prevents slippage, whilst allowing the mask to remaining perfectly central. Because of this 3-post mounting, the mask remains centered, whilst fitting a wider range of telescopes.

There is a myth about different Bahtinov grating pattern is required for different focal length telescopes.  There is no real practical reason for the use of special patterns for different telescope types and focal lengths. In fact, the frequency and angle of Bahtinov mask patterns aren't really that important. The diffraction effect is so sensitive to changes in focus, that the results are excellent regardless. Please be assured that these focusing masks will work excellently for both reflectors and refractors with whatever focal length. All you need to do is to measure your telescope tube size and choose the right size of the mask.

The sale is for ONE Bahtinov mask and you can chose from 8 different products:

FM60mm for a tube outer diameter (OD) from 65mm-90mm.

FM80mm for a tube outer diameter (OD) from 90mm-120mm.

FM100mm for a tube outer diameter (OD) from 110mm-150mm.

FM140mm for a tube outer diameter (OD) from about 150-205mm

FM150mm for a tube outer diameter (OD) from 160mm-195mm. 

FM180mm for a tube outer diameter (OD) from 195mm-240mm.

FM200mm for a tube outer diameter (OD) from 200mm-260mm.

Please be advised that the bigger FM180mm focusing mask have a different patterns as shown by the pictures. 

Please also visit my shop at http://stores..co.uk/Joys-Optics for more bargains! 

Delivery: FREE P&P for UK buyers. The item will be posted to you the same day by Royal Mail First Class Post when your payment is received before 13:00 O'clock. Otherwise, it will be posted the next day. Please note that all payment received over the weekend will be posted the following Monday. International Buyers please see postage details.

Buy from a UK PowerSeller with more than 30,000 happy customers and buy with TOTAL confidence!