DIE!DIE!DIE! #5 (2018) BY KIRKMAN 1ST PRINT COVERS HAVE ASSORTED SPEECH BUBBLES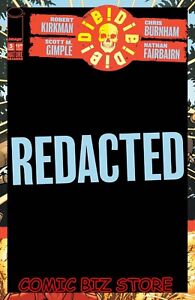 ---
 

Another great listing from COMIC BIZ "Britain's favourite comic book dealer!" 

DIE!DIE!DIE! #5 (2018)

BY ROBERT KIRKMAN

1ST PRINTING

is a highly collectable comic from Image Comics which ships bagged & boarded

 This comic has been strictly graded as a solid, strong, flat NEAR MINT (nm) unread copy which ships bagged & boarded

IMPORTANT NOTES:

The covers of this comic has numberous different or no speech bubbles. We cannot guarantee a particular cover. The background to all of the covers, however, is the same as the image in this listing.

IMPORTANT NOTES:

THIS IS A PRE-ORDER due for release on Wednesday 28 Nov; we will begin shipping this comic from Thursday 29 Nov 2018

The cover image is NOT the final cover art

   

 

  Free UK Shipping Buy with confidence - check out our feedback! 30 day money back guarantee  Ships bagged & boarded Very quick dispatch  

 

 

 

SHIPPING & HANDLING 

FREE UK  - Other options available USA, Canada & Australia £7.95. Europe £5.95. Rest of the world charged at cost Click here to check out our other great listings! Click here to add us to your favourite sellers list, we're listing new items all the time!

- Near Mint Unread Copy - Ships Bagged & Boarded - FREE UK P&P -

   

 

Click here to check out our other great auctions!