Antique vintage old full size violin c 1920 Saxon or Bohemian with case 2 bows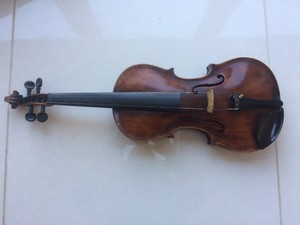 ---
This is a full size adult violin which is around 100 years old and Saxon or Bohemian in origin. The violin needs a full set of strings and a little tlc to be back to working order I always used Pirastro strings. The sound bar is intact. The violin is in good condition, see the photographs. Back measurement of instrument 36cm.
The violin has a beautiful sound and has been in my possession for around 40 years. I obtained a grade 8 distinction ABRSM using the instrument.
Included in the sale are a Kun full size chin rest, a tuning fork and mute together with two bows both of which need to be rehaired. One of the bows also needs a replacement tension screw (see photos). I am also including the violin case and outer cover should the purchaser wish to retain that although it is old and shows its' age. Please note that on the outer cover the zip has come away from the cover material in places and one of the metal openings is no longer attached.
The violin will be despatched with the bridge removed.
Thank you for looking any queries please let me know.